Improvement in energy performance and better sustainability, less energy consumption and lower energy costs. These are all drivers of most organizations and to recognize these, you need a detailed plan – a strategy that will lead you in the right direction, step by step. First establish transparency, analyze the status, then develop improvement measures and execute Investments. Just how suitable this may be for your company, and within which time frame – we will give you this overview through our Integrated Energy Efficiency Program (IEEP).
Our IEEP starts with working with our customers to fully understanding their challenges; we determine where the customer should enter our three phases of project initiation, analysis, implementation and support. Our approach is based on a systematic process and meant to be flexible and scalable, so it can be tailored to the customer's individual situation and requirements.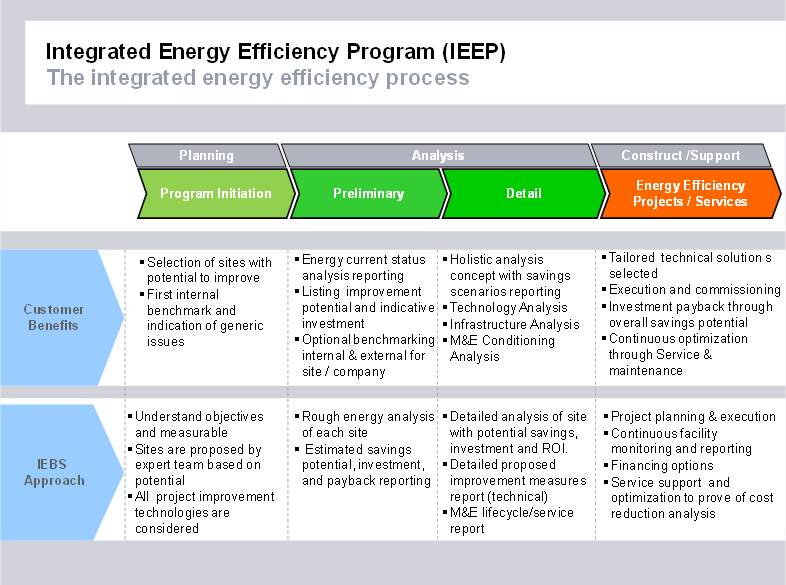 During the Project Initiation phase, we work with customers to develop actionable, strategic plans that meet their legislative and corporate objectives and energy and sustainability goals. The phase begins with transparency — understanding where they are today (a baseline). During this phase, it is important to identify the customer's return on investment targets and funding requirements.
Next, we move to Preliminary and Detailed Analysis Stage Using established strategies and plans
as a guide and detailed surveys we identify facility improvement areas, financial options and available utility incentives to develop a detailed energy efficiency improvement report. The report outlines current technologies and plant condition/status, energy baseline calculations, identifies facility improvements to maximize energy reduction including technologies in areas such as, Building Automation, Mechanical, Lighting and Electrical, provide operational improvements suggestions and calculate the financial metrics (capital cost and savings) for return on investment to assist in your business case. From this stage a program road map of implementation is developed with the customer.
With our outstanding Construction & Support record, our customers can rest assured that we'll deliver their facility improvements projects on time, in line with the budget/business plan and at the quality level they expect. In addition, we can assist with securing funding for capital intensive implementations. To support and ensure that the returns on investments are realized the ongoing services & optimization offerings are recommended to continually improve the new baseline and maintain the customer's investment, a commitment that separates us from some of our competitors.